Now, more than ever, our homes matter to us. The need for superior function and reliability has increased as we expect our homes to deliver more. Add a desire to surround ourselves with beauty without comprising practicality and you know where you need to look for satisfaction.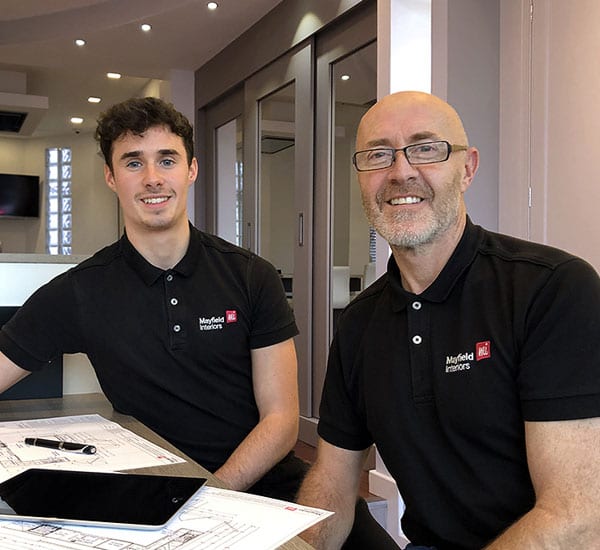 Mayfield Interiors in Timperley is a family business offering exceptional fitted furniture and a genuine personal service. Established 20 years ago by Martin Callaghan, the business has grown through recommendation and is the result of his love for traditional methods, providing customers with handcrafted quality that will last a lifetime.
When Will joined the business 3 years ago, having achieved a degree this father and son team infused the traditional with a modern approach. Will's interest in future trends means that Mayfield Interiors continually seeks out the best of what's to come. Your space is designed with you in mind. That means that your investment is relevant to what you want now and what your future needs could be.
As specialist dealers for Leicht Kitchens and Hepplewhite Bedrooms and Home Offices you know that when you choose your furniture, you're choosing from designs that have been refined over many years. The quality is distinctive. Choose from traditional, ornate or modern, minimalistic. You are making your selection from the best.
Understanding your needs is where it all begins. When you enter the showroom, you can expect to be welcomed by Will. He has a keen interest in making sure that the design you choose compliments your style and that the functionality provides what you need to ensure value for money. Enjoy the attention to detail, knowing that you can expect the same level of care when it's time for your furniture to be fitted. Take your time. Conversation comes with coffee. There's no rush. As a Mayfield Interiors' customer you can be sure that every detail matters, from concept to completion.
You'll get to know the team well because from the moment you enter the showroom to the final checks of your installation, you and your home will be cared for in way that's unique to local business. You'll experience Will's flair for design, the cutting-edge technology and the stunning 3D visuals of your room, allowing you to fully immerse yourself in your dream space. Meticulous project management means that your time and your home is treated with respect. Will and Martin will personally manage your project from start to finish – you can look forward to enjoying the new benefits of your home with confidence. "Our customers deserve great quality without an inflated price. What pleases me most is hearing their feedback. Many of them are so happy that they stay in touch and become our friends" says Martin.
There's a lot to choose from. Take some time to browse the catalogues online and read what customers have to say about the service. Then simply book an appointment for a home design visit or visit the showroom, take in the workmanship and talk about how Mayfield Interiors can make your home feel even more like your home.